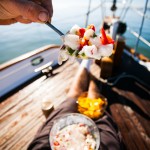 The perfect ceviche recipe?
I love fish. That's one of my favorite things about living on a sailboat and the cruising life – the seemingly endless supply of the freshest most beautiful fish imaginable. While cruising the coast of Mexico a couple years ago aboard my friends Bob's Tayana 37 Charisma, we'd reel in a yellowfin tuna, mahi mahi, wahoo, or sierra almost every day. I was in heaven. The only bummer was that often times by mid morning I'd have caught and filleted so much fish that Bob would cut me off from fishing until I found a way to eat it all. The mission shifted from catching to eating. Cruising life can really be a bitch sometimes.
Fish tacos, ahi poke, BBQ mahi burgers, wahoo salad sandwiches, sashimi, sushi rolls, whole grilled skipjack… The list goes on. Breakfast, lunch, and dinner we ate like kings. However, of all the incredible ways we'd prepare fish, my all time favorite might just have been the ceviche. Simple yet elegant, ceviche could quite possibly be the perfect fish dish.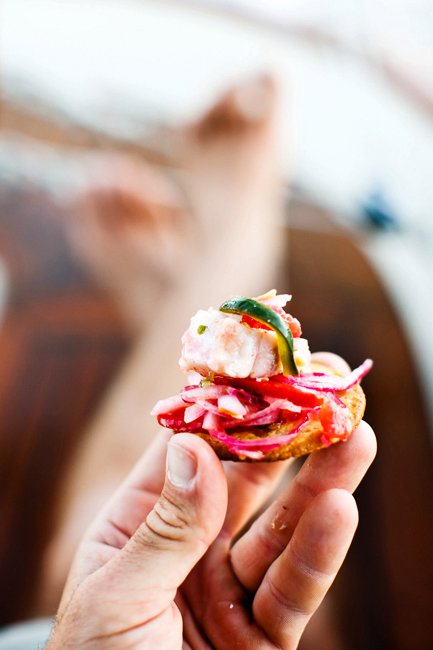 A quick google search about ceviche recipes will bring up all kinds of variations of the dish. Having originated out of South and Central American countries  you'll find that each country, be it El Salvador, Peru, Costa Rica, Mexico, Cuba, or Puerto Rico, all have their own twist on the theme. In a Panamanian ceviche you might find celery. Peruvian ceviche will likely feature corn and sweet potatoes where a Cuban ceviche might be accented with a touch of allspice. The essence of each dish however is the same… fresh fish marinated in citrus juice.
The other day I sailed out into the ocean to Bonita Cove and caught a big ol Halibut and was immediately having flash backs to Mexico. Here I am with 20 or so pounds of fresh Halibut that I have to figure out how to eat… #boatworldproblems When I catch my own fish and go through the process of killing it, gutting it, and filleting it, I find myself connect with the animal on a spiritual level and when taking the life of such a beautiful, albeit goofy looking animal,  I feel compelled to create each dish with respect to that life. Delicious and beautiful.
The perfect ceviche
The beauty of fresh ceviche is in its simplicity. Start with the freshest fish you can find, marinade it in fresh lime juice, add some colorful onions and peppers for a bit of kick, sprinkle in some cilantro to brighten it up, perhaps top it off with a bit of avocado, and voila. The fish should be the star, don't overcomplicate things and cover it up.
After an initial round of tacos prepared with fresh tortillas, heirloom tomatoes, avocado, topped with homemade sour cream and roasted habanero hot sauce, I set out on a mission to make the perfect ceviche and after nine straight meals of ceviche, think I got it dialed.

The perfect ceviche recipe
This is a basic but pretty darn perfect ceviche recipe. When I make it, I simply add ingredients until it looks fantastic. Just enough colorful peppers to add a confetti sprinkling of color. Enough onion so that it's clearly there, but not so much that you end up with a bowl of onion with a few pieces of fish. Use whatever hot peppers you have on hand, it's not rocket science. Start with this basic recipe then start tweaking to your hearts desire.
Ingredients
1 pound fresh fish such as Halibut, Wahoo, Sierra Mackrel, or Mahi Mahi
6 limes
1 lemon
2 cloves garlic - finely chopped
3-4 sweet peppers - diced into ¼" - ½" pieces (should be approximately ½ cup diced peppers)
2 jalapeño peppers - finely chopped
2 serrano peppers - finely chopped
1 red onion - quartered and thinly sliced
2 green onions - sliced
½ cup rough chopped cilantro
1 avocado
Salt - usually about ½ tsp
Instructions
Cut the fish into roughly half inch cubes
Combine the fish, citrus juice, onion, and garlic into non-reactive bowl and allow to marinate for about four hours. Toss every 30 minutes to help evenly "cook" the fish.
After 4-5 hours the fish will turn opaque and look cooked through. Add chopped sweet peppers, hot peppers, cilantro, and season with salt to taste. Gently toss together and refrigerate if not serving immediately.
Just before serving, add diced avocado and gently toss. I like to squeeze one additional lime in the mix to give it a little extra zesty freshness.
Garnish with fresh cilantro. Serve with tortilla chips, on a tostada, with a side of fresh seasonal tomatoes, make a ceviche taco, or just grab a spoon and eat it straight from the bowl... That's what I do.
How to make ceviche… the picture book version