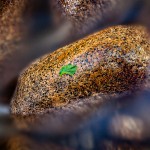 An impulse to keep on looking
"The virtue of the camera is not the power it has to transform the photographer into an artist, but the impulse it gives him to keep on looking." – Brooks Atkinson
As I briefly mentioned in this post from last week, I have found myself so busy with life the past couple of years that I hadn't taken the time to actually sit and create a photograph. I have managed to totally neglect my creative self in terms of photography. Sure I've taken a lot of photographs… according to my Lightroom catalog I've taken more than 20,000 of them in the last two years… and it's been at least that long since I've last pulled out my tripod and fancy camera gadgets.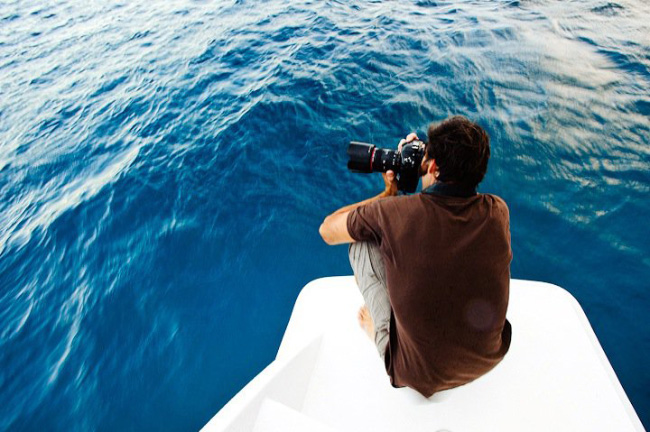 Why so long? Well, I've been sailing a lot. Tripods don't work tremendously well on a platform that moves so much even your oven lives on a swiveling gimbal. Go figure. Fittingly, most of my pictures have been of people having a grand old time on sailboats, or of sailboats, or fish caught from sailboats. You get the drift. Don't get me wrong, I've managed to create some photographs I'm totally stoked about, a few could totally make the cover of outdoor magazine or sailing world if I had any marketing sense, but I wouldn't exactly call my approach of shooting on a boat one of refined artistry. It usually looks something like this:
More often than not we're sailing in the middle of the day at a time when the light is notoriously bad for photography. Add to the mix the highly reflective surface of the water and the blindingly bright white sails and you have one of the highest contrast and unflattering photography studios in existence. Oh yeah, we're having fun too. That's the point of sailing right? Take whatever mental image you have now and picture me with a camera in one hand with a camera strap of spliced rope around my neck. I have a cocktail in the other hand, or a PBR. I'm steering with one foot as I balance on the other, leaning over the rail to try and get the shot. If I'm in really good form I'l be trying to pee off the side at the same time. I'm a real professional like that.
When I got shanghaied by the couchsurfers last week I was excited for an excuse to get off the boat and try and actually create some photographs with both feet on the ground and more than half a second to see, frame, and take the picture. I had my bags packed with nothing but food, camera gear, sleeping bag, and a toothbrush. Screw the tent and sleeping pad. Two bodies, tripod, GND filter set, remote trigger, 10X neutral density filter, polarizer, the works.
The whole drive up, I was thinking back to previous visits and had a number of images I wanted to create in mind. I was pretty amped. One of the amazing things about Yosemite is that every visit is different. One of the difficult things about Yosemite is that every visit is different.  With last winter's snowfall in the Sierras only 18% of average, it was the driest season on record. Without snow we have no water. Without water we have no waterfalls, rivers, or lakes. Without waterfalls, rivers, or lakes most of our classic Yosemite photographs are simply not possible. Of course, those were all the ones I had in mind.
In addition to the subject matter simply not being there, the lighting never seemed to work the normal Yosemite magic. I'd wake up before sunrise each morning to get out shooting early but the world just looked, well blah. Beautiful, don't get me wrong, but the lighting… blah. Often times in the morning a magical mist will settle on the valley floor making for stunning scenes. This time, nothing. Dry as a bone. Not a drop of water anywhere.
We'd go out hiking all day and I'd lug around a million pounds of camera gear and got some fine pictures but nothing extra special. I just wasn't seeing things the way I wanted to. Wasn't seeing deep enough. I was missing the subtleties that existed which transform the ordinary to extraordinary. I had to keep on looking. Change my head space, have fun, go on an adventure and keep on looking. Maybe if I changed the subject matter completely? I decided to give a my hand a go at portraiture for a whopping three minutes.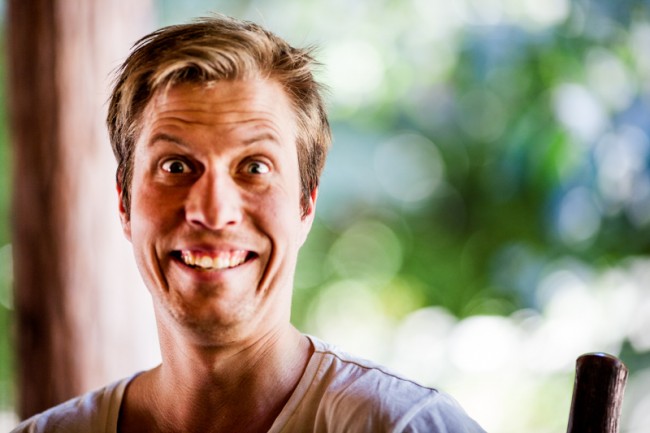 Shortly after, I thought about smearing myself with peanut butter and coaxing a bear to eat me. Get it over with. I'm freaking useless. Thank god the right words always come at the right time…  "Beer?" Ah. Lifesaver. How'd he know I was thinking about bear. Jason was heading to the beer store. A handful of cold Tecates seemed a preferable alternative to getting myself eaten. Meanwhile me and a couple of the girls went on one last hunt for something extraordinary. Our bags were packed with cheese, crackers, and tripods. It's funny how its when you start having fun and stop looking for the magical moments they suddenly appear. We walked into a meadow and the light was simply gorgeous. There was one scene in particular, peering into the woods, which struck an emotional chord in my weird little brain. Perhaps it is just that after having spent many moons walking some several hundred miles through these mountains, I've developed a fascination of the endless patterns, colors, textures, and arrangements of trees as you peer into the wooded forests. This photo does pretty well at pulling those elements together.
Sure, I'm happy with how the photo came out but its just a picture. Many of us go through life never examining what it is that we're looking at or how it is that we're looking at things. We just look, say "ok, that's how it looks then that's how it is." We take it at face value and move on. The camera is a magnificent little tool that we not only use to create photographs, but can allow us a glimpse as to how we view the world. A tool of self examination. Early in this trip I realized that I wasn't seeing things as I would like to see them. I wanted to see the beauty that I knew was there. Having a camera in my hand encouraged me to analyze the framing of a scene, examine the quality of light, see the texture of the grasses, watch the shadows dance through the forest, and observe the evolution and interplay of these elements as the evening wore on. If for some reason what I was looking at didn't resonate, I'd look again somewhere else, or look again in the same place but differently. Truly great photos, should we get any, are simply icing on the cake.
Once I got myself over this mental hurdle I felt a bit better. I was having fun making pictures again. We sat on a bridge, ate cheese and crackers, and watched a goofy duck steal this little kids' crackers before loading up with firewood for the night.
The next morning, again, I felt more inspired to make breakfast quesadillas than photographs. I was ok with this. I was hungry. After a day of hiking we set up for a rest near the largest section of river we could find. The rest of the gang went swimming while I wandered up stream to a secluded spot in the rocky section of the river. I was feeling crafty. I set up the tripod midstream and began experimenting with different long exposure techniques to capture the flowing water. It was mid day and the sun was harsh but where there is sun there are shadows. I found a cool little shady spot and stumbled (quite literally) onto a rad little rock with a beautiful green leaf perched right on top. The way the water flowed around the rock would create a nice frame for the whole composition.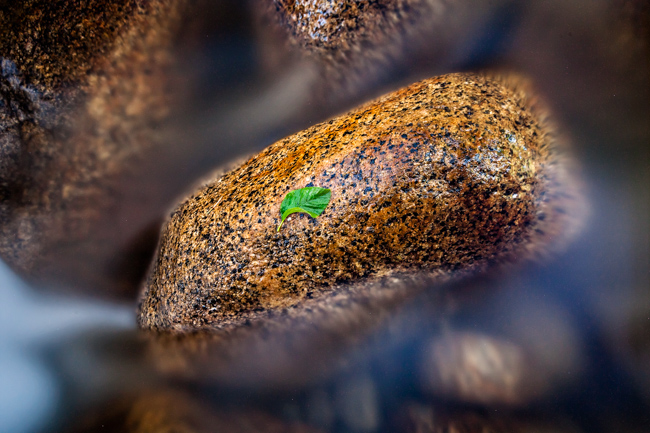 It was in the middle of this five minute exposure when I suddenly felt totally at peace with where I was and what I was doing. I love being around people and socializing just fine but when it comes down to it, I really am a pretty solitary creature.  Sitting in the woods alone watching the cold water wash over my bare feet while peeling an apple with my opinel, the clean mountain air penetrated deep into my soul. I was in a happy place. Perhaps thats why I have grown so fond of the resulting photograph. The leaf looks like it has found it's happy place, it's destiny. How can anything that has found it's happy place not make you happy?
On second thought:
I felt it worth mentioning that although I was joking above about changing subject matter, I do that all the time. In fact, while Kathrin (I think) was snapping that awesome photo of Tomas, I was having fun shooting some portraits of the crew and actually got a couple halfway decent images in a span of just a minute or two.
That's all I got for now… have any thoughts? Be sure and leave a note below!