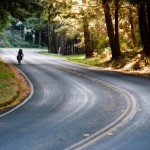 Goal: Conqour the 7 Marin bike rides
Alright. I know it's not super sailing related but then again, this blog is about more than sailing. It's about the crazy lifestyle that sailing affords you and to live on a sailboat in San Francisco without a thorough exploration of the earthy parts would be a straight up crime. I've been calling Sausalito's Richardson Bay home-base for most of the last year and it's been rad, no doubt. Every morning I wake up and sip my morning coffee; peering out and taking in the view. To the South lies the central Bay itself and the city of San Francisco. Belvedere sits a short distance to the East acting as home to the Bay Area uber wealthy. Mount Tam peeks up above everything to the north, proud of it's reputation as the highest peak in Marin.  Finally, to the West we have the the iconic Marin Headlands.
If you've never been to Marin and explored the many nooks and crannies, DO IT! It's an incredible place. Marin County is home to some of the most beautiful natural landscapes in San Francisco and are criss crossed with enough world class hiking and biking trails to keep even the most avid outdoor enthusiast busy for a lifetime. I've barely scratched the surface and don't feel quite right about that. To feed my new addiction to bicycle adventures, kick my butt into shape, and try to get to know this countryside a bit better, I'm going to do my best to conquer seven of the most popular bicycle loops in Marin County.
I've chosen a list of what appear to be seven of the best Marin bike rides according to Mill Valley bike shop Studio Velo… and by the looks of it, I'm screwed! I'll be posting reports and photographs as I check these bad boys off the list. But first: get my brakes working and find a cool spandex suit with some clippy shoes.
Muir Woods Loop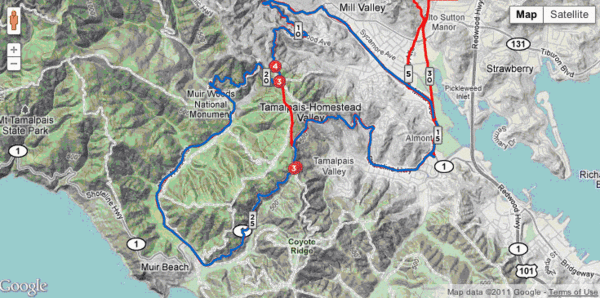 Total Elevation: 2,125 feet
Distance: 13.1 miles
Approximate time: 1 hour 10 minutes
Stinson Beach Loop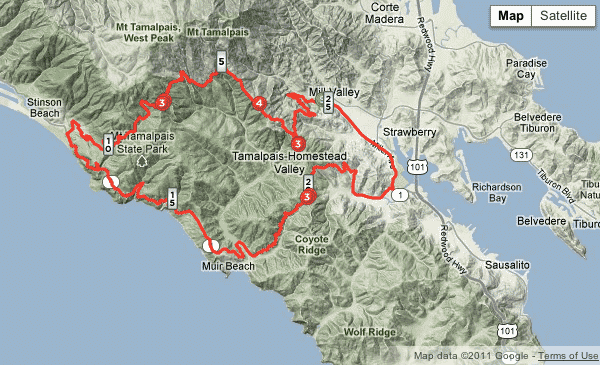 Total Elevation: 3,150 feet
Distance: 24.1 miles
Approximate time: 2 hours
Alpine Dam Loop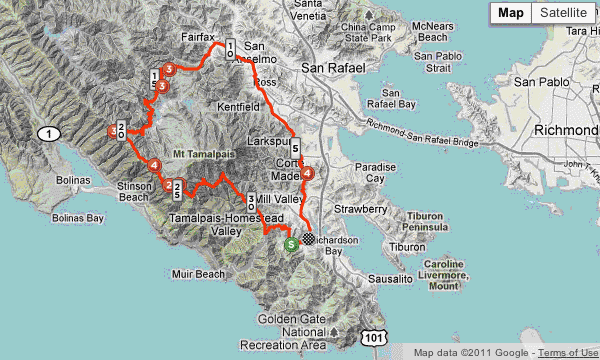 Total Elevation: 3,282 feet
Distance: 34.2 miles
Approximate Time: 3 hours 30 minutes
Lucas Valley Loop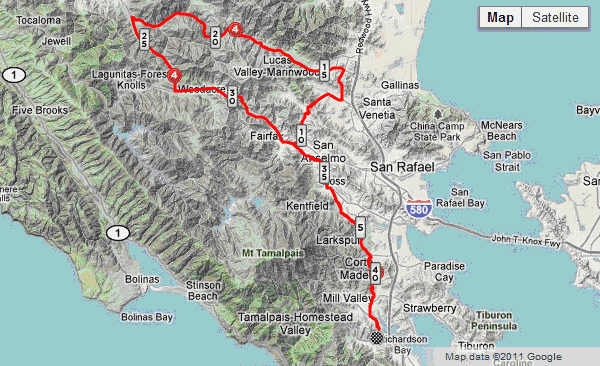 Total Elevation: 2,495 feet
Distance: 43 miles
Approximate Time: 3 hours
Marin Headlands Loop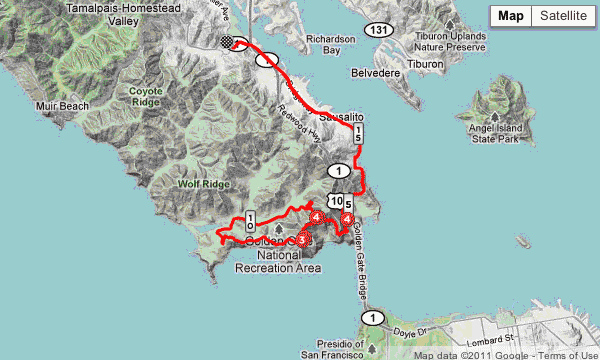 Total Elevation: 1,600 feet
Distance: 18 miles
Approximate Time: 1 hour 15 minutes
Point Reyes Limantour Loop Road Ride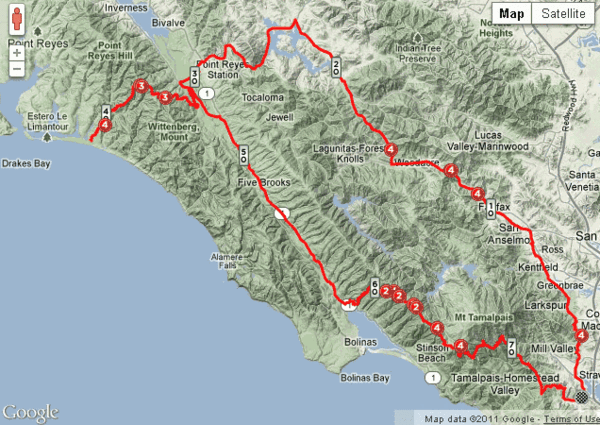 Total Elevation: 7,350 feet
Distance: 75 miles
Approximate time: 5-6 hours
Point Reyes Station Loop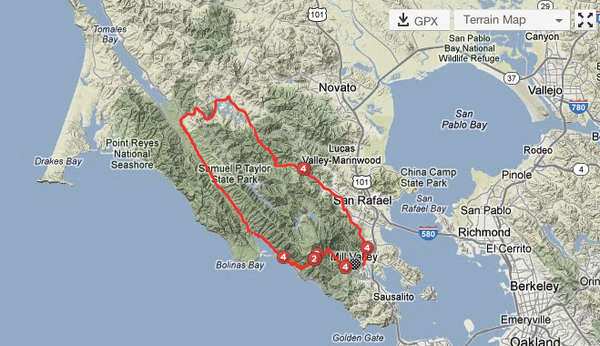 Total Elevation: 3,800 feet
Distance: 55.7 miles
Time: 3.5 – 5 hours
Images and google maps courtesy of Studio Velo