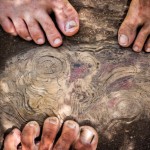 Shanghaied to Yosemite by Couchsurfers
This week just does not want to end. It all started out with what was supposed to be a two day weekend raftup at Treasure Island. Pretty standard. Six days later we finally celebrated the parting ways of the final members of our raft-up turned flotilla with a house sized bonfire. Probably should have seen that coming. Exhausted from lack of sleep and excessive socializing I was excited to sail my bonfire smoke smelling self back over to Treasure Island for some much needed peace and quiet.  I pulled into the anchorage, set the hook, sat my ass down and didn't do a god damn thing. It was fantastic.
The next day, perhaps still recovering from lack of sleep, I was in kind of a funk so realizing that I could just mope around all day or get off my lazy ass and do something. So I got off my ass and did something. I biked up and down every street in Treasure Island then pulled out the tripod and shot some long exposure photographs of the views from Treasure Island. After the sun set, I didn't really feel like sitting on the boat so I spent two bucks and caught the 108 bus into the city to continue the adventure. The plan was to find some funky cafe, grab a cup of coffee, and sort through the day's photographs someplace with some good people watching. So that's what I did until the cafe closed up its doors and kicked me out.
I had thirty minutes or so to kill while waiting for the bus so I went back to the waterfront to take a few more photos. Quack quack. Quack quack. A text from my friend Jason. "Hey bud, where are you? In the mission with some people you should meet!" Ah. What the hell. I don't get into the city much. Might as well try and be a little less of a hobbit and make a quick appearance. So I make an about face, hop on my bike and pedal along the streets of San Francisco. The moon is shining overhead with Old Crow Medicine Show Pandora fueling the ride. The aforementioned funk was done and gone.
I pull up to some sausage restaurant in the mission and find Jason along with four couch surfers. Two spaniards, a swede, and a german. Sweet! Couch surfers and travelers are so much more fun to hang out with than San Francisco hipsters. I don't really understand hipsters, the skinny jeans, fake mustache thing, etc etc. Couchsurfers I understand a bit better. So we close up the sausage joint and hit the streets bound for the Castro. Stoked to hit up the Castro nightlife (aside from Jason, none of us have ever been) Tomas (the Swede), Jason, and I devised a contest to see who could get hit on by the most dudes and score the most free drinks. How could this not be fun?
Unfortunately we ran out of time and wouldn't make it before the bars shut down. Instead we took a walk down Clarion Alley (highly recommended) and marveled at the beautiful graffiti art lining the walls before closing down one of the local dive bars in the Mission. Nobody seemed keen on calling it a night just yet. I forgot who's instigated the idea but somehow the puzzle pieces fell into place.
Jason's boat (Toucan) was anchored in San Francisco but didn't have enough room to sleep everyone.
I'm anchored in Treasure Island and have plenty of room.
It's a beautiful night out.
There's a bottle of rum on Jason's boat.
The solution seemed obvious. Lets all sail Toucan over to Treasure Island, start ANOTHER raft up, and go from there. I jumped on my bike, the rest of the crew (including one random dude that asked if he could come sailing) hopped on the bus bound for Aquatic Park. We figured we'd all make it around the same time but the bus took more than an hour longer than riding a bike. I love bikes!
The night was starting to drag a little bit and I did want to get at least some sleep so to speed up the rest of the process I decided to row Jason's raft out to Toucan, weigh the anchor, and sail her up to a dock where everyone could board more easily. Now when I mean raft, I emphasize raft. We need to get this kid a proper dinghy. Balancing on my knees while rowing out with one paddle against the current the raft was beginning to deflate and fold in half. Keep in mind that I had about $10-15k worth of camera gear and computers in my backpack. This is soo not kosher. More like freaking idiotic.
I made it though. Barely. Singlehanded Jason's motor-less Toucan to the dock, got everybody aboard safely, and we hit the bay. Full sails hoisted, we ghosted along the city front under the glow of the city, moon, and stars, bound for Treasure Island. Silent except for the sounds of our singing… and our random stowaway friend complaining that he had to pee every two minutes. "Just piss downwind buddy. You can do it." The sail was a bit longer than we anticipated but thats the way of the world when you're sailing a boat without a motor and are completely at the mercy of the winds and tides. By the time we tied up to Alchemy, dawn was already quickly approaching from the eastern horizon.
I abandon the party when it was unquestionably morning. I needed to get at least a little sleep. I remember before going to bed we were talking about Yosemite. When I woke up to the vibrating of the hull due to our stoaway's snoring, I learned a decision had been made that we were all going to Yosemite tomorrow. Yes. Apparently that we included me. "I can't" "I have things to do" "But… uh but…" I was trying to think of an excuse not to go but couldn't really think of anything pressing. I reminded of the year I decided to never say no and how it turned into one of the best years ever. What the hell. I'm in. The crew abandon ship mid day and when the current became favorable I hoisted sail and set a course for Sausalito.
The next morning I wake up back in Sausalito, pack anything that seems useful, prep some food, and row on into shore. Getting anywhere when you live at anchor on a sailboat is always a game of trains planes and automobiles. Row into shore, walk to ferry, ferry to city, BART (subway) to Oakland, Drive to Yosemite. Reverse the process to get home. Jason (California), Tomas (Sweden), Fatiama (Spain), Esther (Spain), Kathryn (Germany), and yours truly (California) squished in the car and hit the road.
Yosemite is a popular destination. Like really popular. If you want a campsite in the valley you need to make reservations months ahead of time. We just decided to go yesterday, needless to say we didn't have reservations. There is one campground (camp 4) that is walk in only, but it fills up immediately. We didn't get into the valley until about ten thirty so our options were pretty limited. After talking to this crazy Aussie climber guy Ralph in the camp 4 parking lot telling us about he couldn't find his camelback and that it had turned into a porcupine and walked off, we decided to just poach an empty campground across the valley for the night and return bright and early to try our luck at getting a spot at camp 4.
5:30 am. I get everyone up and packed. Into the car by 6:00. At Camp 4 by 6:15. The line was already 20-30 people deep. Wow! I'm glad we got here early. The only other time I camped here was during a blizzard on New Years. Getting a spot wasn't a problem then. The ranger was scheduled to arrive at 8:30 so until then we'd just hand out, cook breakfast, drink coffee, make new friends, you know. The usual.
We got a spot no problem, went in to set up camp and stash our food in bear containers, laced up our boots, and hit the trails. Every time you visit Yosemite your experience is different and with each new experience, your appreciation of the beauty of the park increases exponentially. Last time I came here the waterfalls were raging. Millions of gallons of water were plummeting from the granite walls above. Bridalvail, Horsetail, Sentennial, Nevada, Vernal, and Yosemite Falls were all flowing strongly. This year after a winter of the lowest ever recorded snowfall, Nevada and Vernal falls were the only waterfalls with any water flowing. The beauty wasn't as in your face as normal, but sometimes this is just the motivation we need to learn to pay a little more attention to the details to find the magical moments.
With no water flowing through the falls, my normal recommendations of hikes would have been bit dry so to speak. So we ventured off to El Capitan, the largest granite monolith in the world, and watched a dozen or so gnat sized rock climbers make their way up the multi-day ascent. From there we cruised over to the visitor center and watched a little movie about Yosemite. Every one of us fell asleep. Then we hiked on up to the bridge below Vernal Falls for a nice relaxing swim.
Dinner was pretty legit. I cooked up some soft boiled eggs to be served over quinoa sautéed with onions, garlic, kale, then topped with Avocado and diced tomatoes. We'd of course wash this down with Tecate and Champagne with smores and roasted apples for dessert. We had also unknowingly decided to come to the valley during the peak of the Perced meteor showers. Laying next to a campfire with a full stomach, a jar of champagne, and a sky full of streaking fireballs, what could be better?
The next day we packed our gear then headed on a hike to mirror pond, or rather mirror swamp. The hike was gorgeous as we meandered through the tall trees alongside the dry riverbed walking barefoot in the dirt. Half dome loomed overhead to the right. I let Kathryn use my second camera and she was snapping photos like a maniac, a huge smile on her face the whole time. Unfortunately Fatima had to stay back and get some work done on the computer but if you're ever in the valley and need a place to work, Curry Village rocks! I'm thinking I may cruise up, get a spot in Camp 4, and make Curry Village my office for a week or so. Sure beats internet cafe's!
Unfortunately the adventure had to come to an end sometime. So we packed up the car and drove back to San Francisco. We dropped Esther off at a ride share along the way. She's somewhere between San Francisco and the Grand Canyon en route to Colorado. Kathryn is now in Colombia, and Fatiama is back in Spain. Tomas will be in Berkeley for another few months and Jason sure isn't leaving anytime soon so something tells me a man date will be in order shortly. Ahh. Life is good.
And just in case you can't get enough. Here are a few more photos…