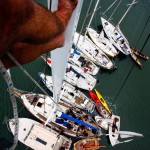 Yet another epic Treasure Island raft-up
Following on the heels of the spectacular Ephemerisle 2013 raft up extravaganza, we managed to round up another impressive fleet for July's Treasure Island raft up. We still have yet to beat what seems to be the largest raft up of record at Treasure Island of 12 boats, but with a turnout of 10 big boats sailing out towing close to a dozen little ducklings behind, we weren't far from beating it! With the next raft up scheduled for September, something tells me that the current record won't hold for long.
The building of a raft up isn't difficult but if done carelessly can end in disaster. There are a number of other seasoned sailors who have been getting involved with the raft up scene but for the most part there aren't many boat/skipper combos with both the experience and the proper ground tackle (anchors) that I'd trust to hold a dozen boats. For that reason, along with the fact that Alchemy handles like a drunken elephant when maneuvering in close quarters, I wanted to get there early on and set a good base for the rest of the raft.  As boat life happens though I lagged on getting out of the anchorage in Sausalito. Projects take longer to finish, spontaneous two hour history lesson from your diver ensue, you realize you're out of propane, and still have to provision the boat with a weeks worth of food and booze.
A friend looking to get out on the water joined the ship and we finally set sail in the early evening. I wan't bummed but thinking the raft would already be going strong and there would be a lot of anchor gear to check on the existing boats, I was kind of bummed. I sent out a post on facebook warning of our arrival. "8.6 knots VMG with double reefed main, staysail, and headsail. See ya'll soon."
Upon turning the corner and tacking up the narrow deep water channel into the anchorage it turns out that only one boat was there so far. CHUB! I love chub. And Lisa, her owner. And Mike Redbeard was there! I love mike too. Both I'm sure will surely get a post dedicated to their stories sooner than later. We sailed a couple circles around CHUB before sailing in our anchor.
CHUB motored up and tied alongside, followed shortly after by Jason in "Toucan", with Adam aboard his 27′ sloop came in a few hours later, with a 26′ sloop co-owned by four friends tying up just before midnight.
The next morning the raft slowly grew and by the afternoon we had ten boats tied up and the party was started. People were sailing dinghies around, playing accordions in canoes, climbing up masts, jamming out on the guitar and drums. Cocktails were flowing freely and food was pouring out of Alchemy's galley like never before.
The entire weekend I don't think I ever stopped cooking. I was having a blast, it's nice to finally have hungry mouths to feed. Shawn from the fine yacht Rodent helped as the executive sioux chef, and together we knocked the culinary ball out of the park! Freshly chucked oysters with shallot mignonette. Steel cut oatmeal with dried cherries, vanilla bean, marin honey, toasted almonds, walnuts, and coconut flakes. Fresh baked bread served with a fried garlic, rosemary, and sea salt olive oil, caveman muffins, a potluck pasta meal to die for. I should have kept track of what we did… Pain killers with fresh nutmeg, terroir and tonics, and long island iced teas were pouring out of Alchemy's cocktail shakers. Lisa, was the margarita master aboard CHUB, and in terms of rum, Adam made sure to keep everyone hydrated.
By the end of the evening we had all kinds of rad plans in place. Diving next weekend, I think we had a full crew signed up to recreate John Steinbeck's "Log of the Sea of Cortez", a dinghy sailing adventure to Tomales Bay was on the books. Creative juices were flowing. Unfortunately that level of inspiration typically comes with a significant headache the next morning.
The next morning wasn't as rough as I expected though. The fact that Jason comes over with a big ol' smile and a couple bottles of champagne doesn't hurt either. Jason always comes through. The remainder of the weekend continued in much the same fashion. Fun, fun, and more fun. It was a grand old time. Although we managed to corrupt a few people to call in sick on Monday, those who had to work on Monday started drifting away later in the afternoon. As for the rest of us, we held the fort down.
After a nice leisurely morning of playing dominoes and dice the following morning, we finally decided to disband the raft. The time had come. Adam left early in the morning back to his berth at Jack London Square in Oakland. Tarran on Wanderer was heading that way as well. My grandfather was coming through town the next day so I figured I'd head to Jack London as well. From there it would be an easy bike ride to have lunch with Papa and my sister. Due to a recent and humorous dispute with her marina, Lisa had no where to go and wasn't hard to convince to head to Jack London with us. And Jason, well Jason is always up for anything.
So that afternoon, we broke up the raft but the gathering was far from over. Our raft up simply transformed into a flotilla. In a single file line we sailed the short distance to Jack London and took over the guest dock in no time. By then we were hungry. Lisa got to work making taco guts on CHUB while on Alchemy we pressed some fresh tortillas and made fresh salsa. May the raft up live on!
Next Treasure Island raft up is scheduled the weekend of September 13th. What do you say, are you in or are you in? Get at me for more info!
…And because I have more photos that seem to deserve not rotting on a hard drive