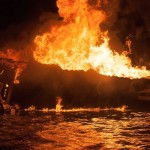 Ephemerisle Raft Up
Wednesday evening I decided to rally a fleet of boats to ambush an unsuspecting ephemerisle, a floating city deep in the Delta which will exist for five days then vanish without a trace. I called the only person I knew who would be crazy enough to accompany me – my good friend Shawn Jonitz – and Within 24 hours the fleet was assembled and at 12:30am under a star filled sky the mission began. Shawn, captain of his 14' wooden Rodent led the way while the 8' Diva captained by yours truly ghosted along silently behind with a mouse on her sail, her captain sipping box wine out of a beer can. We were an intimidating fleet.
To say we were having the time of our lives would be an understatement. Our two boats ghosted silently through the delta. The chirping of crickets was accented by the ribbiting of bull frogs and the occasional splash from a breaching striper. The sky was moonless. Stars stretched from horizon to horizon. The weather was warm; all we wore were trunks and a sweater. I couldn't see Shawn's face but judging by his hooting and hollering and sounds of joy I can tell you that the grin on his face was similar to mine, as I was doing the same. We had little idea where this mystical temporary island was located and were sailing tiny dinghies under a pitch black sky in an area neither of us had ever been before. We were in heaven.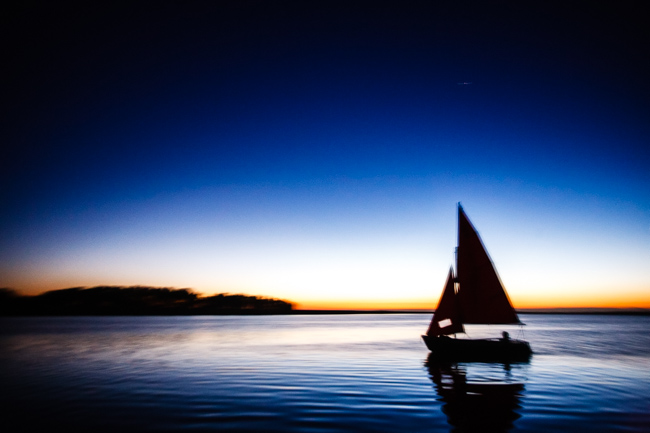 As the narrow delta channel where we started our journey opened up into an unprotected bay, the winds picked up steadily. At 14' and with large water tight compartments, Shawn's Rodent can handle quite a bit of breeze comfortably. Diva on the other hand gets a little exciting. Beam reaching across the breezy bay I had to sit on the rail and work the mainsheet to keep her from flipping. Each time we'd hit a wave, spray would blow back from the bow and slowly fill up little Diva with water. I'd have to stop and bail her out with a copper bottomed saucepan and a sponge three times. It was so dark that we'd have to shine a headlamp on the sail periodically to avoid getting separated while we continued to guess our way to Ephemerisle. By the time we reached the other end of the bay a couple of miles later, my face hurt from smiling.
We anticipated the sail would take about 2-3 hours and were hoping to make our destination by 2:30-ish. At 5:30am the sun was starting to light up the sky and we were still sailing away. As the sun rose over the reeds we couldn't believe how beautiful this place was! Shawn sailed circles around little Diva as I took pictures from my lounge chair position entertaining myself by balancing my can-o-box-wine on the raised dagger board.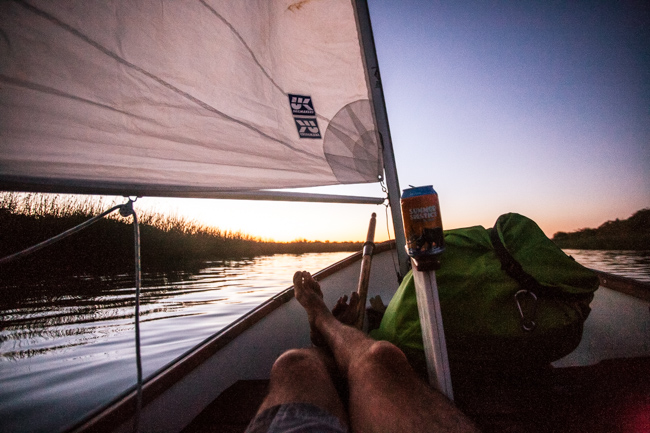 Land Ho! 5:34am we spotted our target. What a beautiful sight. Three separate islands, each consisting of about eight houseboats and an assortment of sailboats, powerboats, canoes, dinghies, and every floating contraption you could think of. We spied a burning barrel on the largest island and proceeded to ambush. In hindsight I shouldn't have been surprised to be greeted with a cocktail and ahi tuna fresh off the grill by complete strangers at this hour. It was immediately evident that this upcoming weekend would require a subsequent recovery period.
More urgently though, it was time to recover from a nightless sleep of dinghy sailing and prepare for events to come so I sailed Diva off into the reeds that lined the shore, tied off to a stump, and made my first attempt to sleep in Diva. I quickly learned that a space of no more than six feet by three and a half feet when divided athwartships by an elevated bench seat isn't exactly the most comfortable sleeping arrangement, especially when shared with two duffel bag sized dry bags of gear. Add to the equation the impossible to hide from and blazingly bright delta sun and all I could do is burrito myself in Diva's sail and count sheep. It worked, for an hour or two.
After aborting my mission of getting any real sleep I noticed little black and red spots in the bushes. Blackberries!! I quickly slipped out of my burrito and stand up paddled into the bushes to fill my saucepan bailer to the brim with the sweetest berries I'd ever eaten. Shawn and I forgot the french press but it seemed a fool proof plan to trade berries for coffee.
In the majority of the previous raft ups and sailing gatherings in San Francisco I knew pretty much everyone. Hell, Alchemy tends to be the center anchor. But here, aside from a couple of the sailboats and the Squirrel Scouts who occupied one of the houseboats, I didn't really know anyone.
I tend to be a pretty introverted person. When I happen upon large crowds it takes me some time to assimilate and start making new friends. Back in high school I was always that guy at the party sitting in the corner strumming away on the guitar observing at a safe distance. Coming to this event the last few days was much the same. In any event, the initial gathering serves as a natural meet and greet. The ice is easily broken, groups formed, and chaos ensues naturally. Ephemerisle seemed the kind of event that takes a couple days to figure out. We only had two and a half so the bulk of my time there was spent figuring things out and getting over my initial shyness in large groups.
Most of the time I found myself simply sipping on a cocktail and observing from a distance. Some things never change I suppose. It was entertaining as hell though. When it got hot, I'd swim my ass off. Then I'd hop on Diva and sail no-handed all over the place until someone asked for a ride to a different island. Then I'd spend the next few hours ferrying people back and forth between islands. I'm not the best at doing nothing so I tended to keep busy doing something all the time.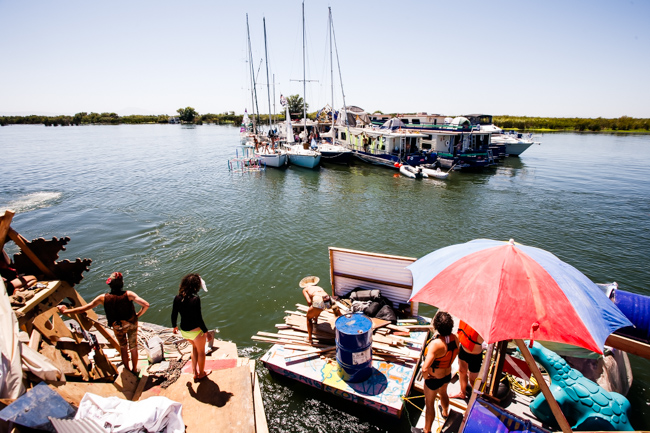 Night came, and the real party began. On the island of houseboats known as "Titan" there was a large dance floor lit up with an awesome array of lights. People danced through the night and lets just say that ephemerisle is definitely a clothing optional event. Each houseboat seemed to have a full bar and drinks flowed out in a never ending stream. Sometime around 4:30am I decided that getting some sleep might be a good idea. I sailed Diva back out to the reeds, rolled up in a burrito and tried to catch some sleep.
About an hour after sunrise I slid my head out from under Diva's bench seat as a couple of fishermen laughed. "Rough night huh?" "Yeah, something like that." I picked a couple handfulls of berries and rowed back to Titan. Need. Coffee.
I had a bunch of grub in drybags but no way to cook it so I hopped across boats over to the squirrel scout/angelopes houseboat and asked if I could commandeer their galley. Before you know it hungry people are waking up left and right. Shawn joined me in the galley and in no time we had a full blown restaurant in operation. Fire roasted peppers, with a platter of veggies Shawn grew himself to accompany a platter of soft boiled eggs on toast over sautéed onion and kale topped with fresh avocado and a sprinkling of sea salt. Remember that ice breaker I mentioned I missed before? Well put me to work in a kitchen and I tend to open up a lot more quickly. This worked.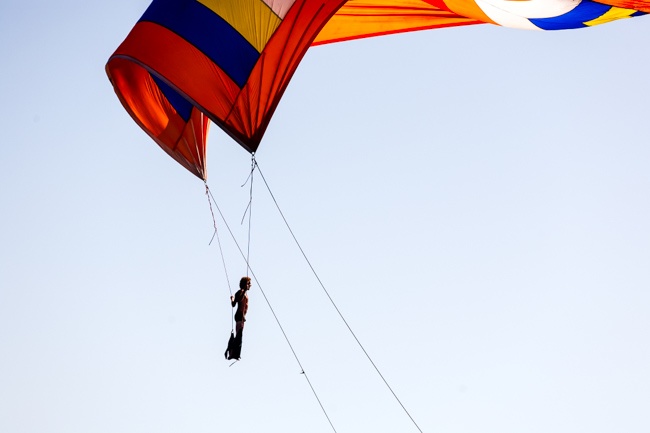 The second day proceeded mush as the first. Partying, swimming, sun burning, etc. One notable exception was that a friends dad pulled his boat away from the raft and offered spinnaker jumping rides to everyone. Awesome! You'll have to check out the pics below to see what I'm talking about. The second night for us unfortunately happened to be the last of the ephemerisle raft up so a celebration was in order. The Angelopes just so happened to bring their flame thrower flame effect device. Something was destined to burn. I sailed out in Diva a safe distance away what had now become deemed by some as "blanket island" and others as "shitshow island", a giant raft of homebuilt boats and platforms, and pretty soon a chunk of it was up in flames. Sailing around in little Diva with 50 foot flames whizzing by a short distance away was pretty entertaining to say the least.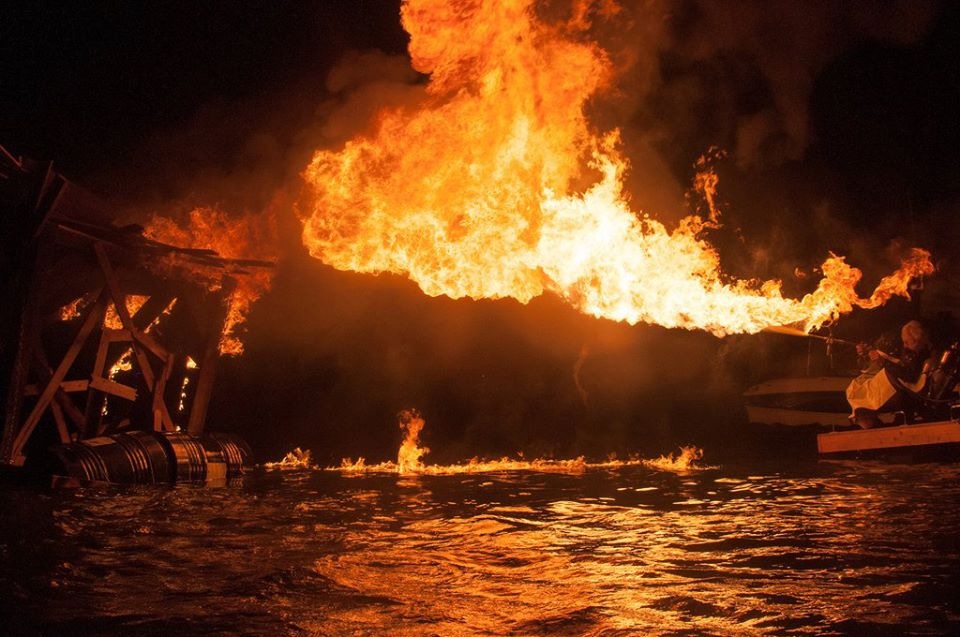 After this flame event it seemed everyone was pretty wiped out from the previous week of partying but inspired enough to cut up some scrap wood, toss it in a barrel, and get a little campfire going. It seemed like it would be an early night and I was hopeful that I'd be able to catch up on some sleep. Of course I was wrong. So sometime about 4:00 am I finally passed out by the burn barrel on the plywood platform under the stars.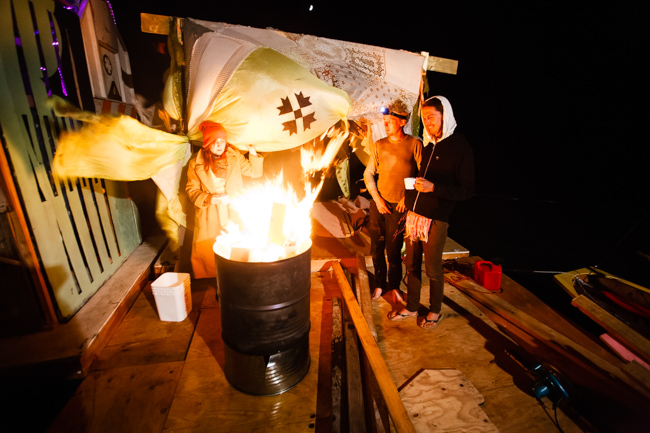 The next morning it was time to breakdown the islands and call an end to the ephemerisle raft up. A sad moment for sure. Just when I'm starting to get to know everyone, its time to part ways. That's life I suppose. So after hauling up eight giant anchors out of the delta mud, I hitched a ride with my friend Adam on his sailboat for a two day sail out of the estuary back to Sausalito.
It's events like these which tempt me to stay in San Francisco a little longer. Unfortunately I think my tenure here is coming to a close so I doubt I'll be making it to the next event. If you get a chance to go though, I'd highly recommend it! Good time for sure.
More photos of Ephemerisle 2013: