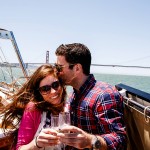 Seth proposes to Marcella… on Alchemy!
I'll be honest. When I was putting together my sailing charter website at sailalchemy.com website I included phrases such as "turning your dreams into reality" in large part because I didn't know what else to write. Sure it seemed true enough and had a decent ring to it but it wasn't until today that I realized how true this is.
Seth met Marcela two years and a few days ago on a larger charter sailboat in San Francisco. After a few months of dating, Seth realized that he was going to marry her. a few months after that, he came up with the idea that he would propose to her on a sailboat. Since that day, not a moment had gone by that he didn't dream of this day. A couple of months ago, he calls me from Iowa and asks if I'd be interested in helping him make this dream a reality.  This sounded fun, of course! We chatted for a bit, I ran a couple of ideas by him and reassured him that we'd make this day totally awesome. He sounded so excited I couldn't help but get totally stoked for this.
Marcella and Seth met Alchemy at the dock in San Francisco. Marcella had no idea they were going sailing, let alone be proposed to. So we set sail across the bay. The weather was absolutely gorgeous. Warm and sunny with a perfect breeze. Seriously one of the best days of the year. As the afternoon San Francisco breeze started to pick up, I decided that we'd tuck back into the warmth of Sausalito and set the stage for Seth to pop the question. We ghosted along in the light warm Sausalito breeze and snacked on some incredible cheeses. I was hoping Seth would hurry up and ask her so we could open up the champagne.
After ducking down in the cabin for a few moments he emerged back in the cockpit, got down on one knee, and proposed. Of course she said yes! The two of them talked lovingly about the previous couple of years. Each time Marcella noticed the sapphire and diamond ring on her hand her smile kept getting bigger and bigger. We sailed back out into the bay for a fantastic downwind sail along San Francisco, champagne flutes in hand. We were even treated to a spectacular of the New Zealand and Oracle America's Cup boats flying past us at breakneck speeds.
It is days like this that I realize what a special boat Alchemy is and how lucky I am to be able to share moments like this with such incredible people. Congratulations Seth and Marcella! Can't wait to see how this adventure unfolds for you.
There were just too many cute pictures. Here are a few more. You can also view the full set here.