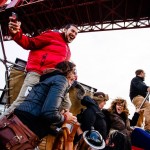 Chocolatiers + Ukulele = Awesome
Ok. This charter was ridiculous… in the best way. The second these guys walked on the dock it was nothing but big smiles, rad hats, and huge hugs. It was evident that we were going to have a great time. Just a few seconds after everybody stepped on board a bottle of tequila was opened and passed around in a circle. It then became clear how much fun we were going to have. Turns out this group of chocolatiers and ukulele musicians knows how to have a good time.
So after a quick safety briefing we hoisted the sails and slipped silently away from Sausalito, pointed Alchemy's bow towards the Golden Gate Bridge, and smiled out faces off. The wind was fresh but with a couple of deep reefs in the mainsail we sailed quickly and comfortably out into the pacific. The light was absolutely gorgeous making for some great photographs. After a couple of long tacks over the ocean swells, we did an about face and reached along on a broad reach towards the city front.
The sky behind us turned magnificent shades of oranges and purples as the sun set behind the bridge and the Marin Headlands. To catch the last of the light, we turned Alchemy towards Angel Island and took turns practicing our King of the World routine on the bowsprit. It was a perfect night to put it simply.
We tucked into Ayala cove and picked up a mooring just before darkness set in. When you have a professional ukulele player on board (which we did) you know things are about to get fun. I think it is safe to say that we had the most epic ukulele dance party jam session to date.  The hammock was set up, tequila turned to wine, and we enjoyed a glorious evening.
I'm not exactly sure what time we got back to the dock. Sometimes when you're on the water time occupies a different space. Must have been about midnight though. I don't really know how else to describe this sail, other than the fact that it was amazing. Hopefully the pictures do it justice. Be sure and check out the rest of the photos here!