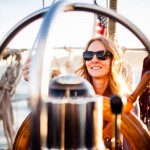 Champagne Sail Encore
These photos are from an encore sail to our champagne sail a couple months ago. I never had time to post these pictures at the time but couldn't resist posting them now. Just such a spectacularly gorgeous evening with some of my favorite people.
We've managed to get this champagne sailing concept down pat. While the rest of the sailboats on the bay (if there are even any out) are getting soaked to the bone in the slot, we bask in the setting sun while sailing downwind with a glass of rosé or champagne in hand. Tonight we had the fridge stuffed with fixings to build and BBQ the best burgers you've ever had. Bacon, Avocado, Kawabunga Cheese, Marin raised beef. Yum.
So we tucked Alchemy into Ayala cove at Angel Island and fired up the fireplace and BBQ. There was only one other boat there on such a perfect night! Sometimes the boat gets oddly quiet and I  become concerned that there may be something wrong. Then I realize that everyone is just stunned by the peace and beauty and needs a moment to soak it all in. Are we lucky or what?
After an incredible meal, a few bottles of wine, and dessert. It was time to set sail and head back to Sausalito. Enjoying scratch made Hot Buttered Rum's under the stars and rising moon, we had our next sail planned by the time we got back to the dock. I love these people! Thanks again Ronna, Morgan, Brian, and Christine!