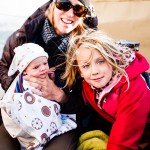 Baby Taj Goes Sailing
Meet the Lauduccis. Christian, Josie, Nina, Elamay, and the latest addition Taj. When people ask me if kids do well on boats, they're one of the stories I tell. All five of them live on a forty foot sailboat in Sausalito. Over the past year I've had the privilege of getting to know them and boy, do they have fun. Watching the kids growing up on the boat has done nothing but reaffirm my belief that kids and boats are one of the best combinations ever.
On more than one occasion I have seen Elamay (the youngest daughter) excitedly waving and hollering at me to come meet her new pet jellyfish, caught with the jelly fish catcher her and her dad made. Last time their names (the jellyfish) were Jack, Johnny, and Mary. Nina, the older daughter is most likely walking down the docks on her hands or leading the dock cheerleading squad in their new cheer. Doing something fun for sure.
What I love about these guys is simply their approach to parenting and life in general. Not once have I heard them use the kids as an excuse not to do something. In fact, it's always the opposite. As an example, with Baby Taj on the way, Josie had some maternity leave coming. What a perfect time to load everyone on the boat and sail to Mexico for a few months! Eleven and six year old girls and a two month old baby boy. Engine problems with their boat put that voyage on hold but instead decided to load up in a car and road trip across the country.
Anyway, back on track, when Christian and Josie asked me if I'd be interested in taking the fam for a sail, I jumped at it. Their goal was to get Taj sailing in his first week. We didn't quite make that happen but we did manage to get out the day before he turned one month old. The older daughter Nina couldn't make it but little Elemay was an driving machine. She rocked out at the helm all afternoon while the rest of us sipped on some wine and had an absolutely fantastic time.
Have kids of your own? Lets get them out sailing! View the full set of images on facebook here.