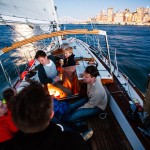 Sailing + Swimming + Supermoon
I received a call from Karri a few days ago asking if I'd be available to take a group of his friends out for a sail. Of course! However, apparently word spread in Karri's circle of friends that we were going sailing. Next thing you know Karri's asking if we can find more boats. With only one day to rally a second boat, I called my good friends of the Libertatia and asked if they'd available to join Alchemy for a sail of the bay and an Angel Island BBQ. They were thrilled. We had a lot of work to do to prepare for the sailing experience so off to work we went.
Alchemy sailed in from the East, Libertatia from the North, as we flanked into Pier 40 in the South Beach Marina. These two boats look gorgeous together. Easily the most beautiful duo in the bay. Shortly after we were met by a dozen Finnish friends, all smiling ear to ear. There was no doubt that we were going to have more fun than anyone else in the city today.
We split the group into two groups. Six aboard the Libertatia with her crew of Lowell, Joclyn, and Vincent. Six aboard Alchemy with myself. Somehow it seems all of the booze wound up on Alchemy. Before we even left the dock everybody was clinking champagne glasses together. After a safety briefing, we sailed by side of the Libertatia on a voyage of the bay to our destination of Angel Island.
The weather was FANTASTIC! Enough wind to make things exciting but warm enough that we were all able to sail around in bathing suits. Alchemy was sailing along with a bone in her mouth. Her bow wave cresting and her rail kissing the water with two finnish girls in bikinis on the helm. Yeah, life's tough sometimes.
We sailed into Sausalito before bearing away into Raccoon Straights towards Angel Island. Alchemy and Libertatia docked side by side in the beautiful Ayala Cove. The gang eager to explore the island, departed the ships to embark on a little hike while Lowell, Vincent, Jocelyn, and myself prepared a feast aboard Alchemy to be ready when they returned. We created quite a spread! I was below decks on bar tending duty. Fresh brewed ginger beer cocktails and Campari spritz's being the specialties of the day. Vincent rocked the party as the grill master above deck. People were snorkeling, swimming, dinghying… having an absolute blast. So much so that people from other boats in the cove even came over to join the party.
All great things must come to an end sometime though. Thankfully because there is another great adventure that must begin. So we cleaned up the boats and set sail once again. The crew aboard Alchemy wanted to tuck out under the golden gate bridge, so that's where we went. The sunset was unbelievable. The bridge as majestic as ever. The return sail along the city front under the light of the "super moon" was pure magic.
Many thanks to all who came out today from the crew of Alchemy and Libertatia. We hope to sail again with you all soon! – Jocelyn, Lowell, Vincent, Geoff.