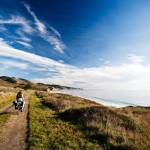 Point Reyes Bike Camping
Last year I spent New Years camping in Yosemite Valley. The snow was falling, the sun was rising. We were perched at tunnel view with our cameras perched atop tripods. We had mimosas and eggs on toast cooking. Of course it was snowing so hard we couldn't see anything and I it was so cold my hands were totally numb as I had to continually dig the camp stove a home in the accumulating snow. But the clouds cleared, the eggs cooked, and the champagne got drunk –  what an epic New Years. How do you follow that up?! With a bike ride camp trip to Point Reyes, thats how!
During one of the Berkeley marina's tuesday night potluck fires, a few of us boat people were trying to figure out what to do for new years. Rock climbing Joshua Tree, a sailing & chili cook off, and a few other ideas were contemplated. I just wanted dark skies, a lot of stars, and few people. A couple days before New Years I pitched the idea to a friend Chiara to rally a group of people and camp Point Reyes. She suggested biking there… on a bicycle – you know  those things without motors. Hell yeah! Lets do this.
Driving through the Tomales Bay area a couple years ago I first saw a couple riding their bikes, bags mounted on the side, sleeping bag and pad strapped on top. Backpacking on a bicycle? How awesome is that! Ever since I've been wanting to do it. Now we are. Sweet! Only problem is I don't have a bike. I don't have anything really. No helmet, no tent, no fancy spandex bike suit. What to do?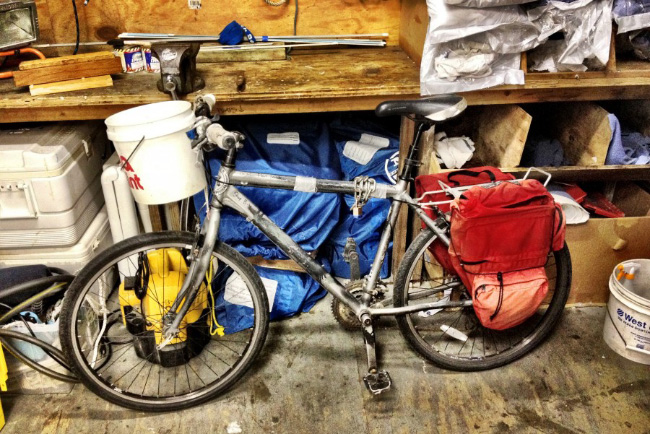 Shop bike to the rescue! At the maintenance shack at the sailing school where I teach we have this shop bike. It is full of character. Spray painted grey, handles made of old rope, and a paint bucket for a basket. The shop was closed for the holidays so I figured nobody would mind if I borrowed it. Yoink! I re-secured the paint bucket, retied the rope handlebars, screwed the front brake back on, and mounted Chiara's old pannier bags from 1983 to the rear. By 11pm the night before we were leaving, the bike was ready. I sent Chiara a picture of the bike along with a text that read "This is happening." I think she was a bit worried.
After a quick stop by Chiara's boat to grab the almost forgotten whisky, we were on the road by 7:30am. Off to Point Richmond where we'd catch a bus to the San Rafael transfer station. We made it early and even had time to relax for 45 minutes in a little cafe. Awesome!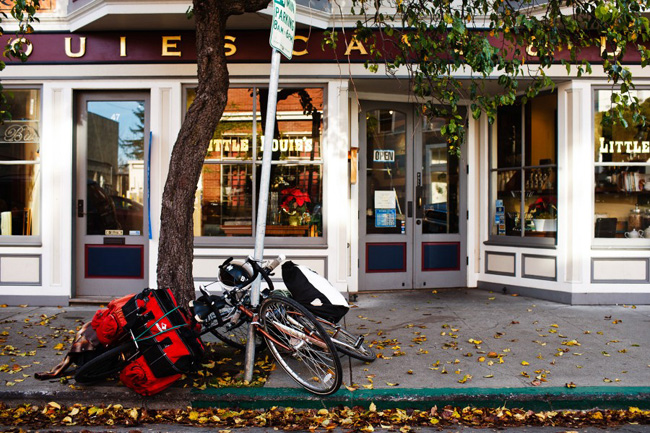 After a $4.25 bus ride across the Richmond bridge we strapped our gear back on the bikes and pedaled as quick as we could from civilization. I wonder what people thought when they saw me ride by: Bucket bike, 1983 saddle bags, running shoes, wool socks, swimming trunks, a brown flannel, sunglasses, and my snowboard helmet – complete with Black Flag and Burton stickers.
The ride was incredible! It took us about 7.5 hours total through some of the most gorgeous scenery imaginable. Seriously impressive. Picturesque winding roads lined with towering redwoods and trailside creeks in which the local salmon spawn. Then you ride through beautiful farmland with meadows full of horses, sheep, and frolicking cow puppies. And then you keep riding… and riding… then walk your bike up a big hill, then ride some more. It was awesome.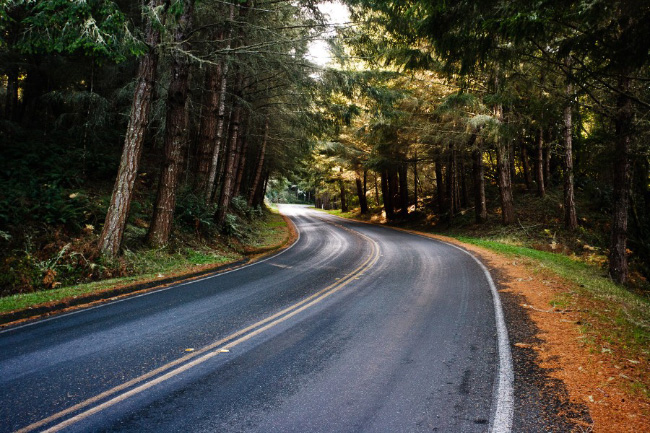 We picked up our camping and beach fire permits from the Bear Valley visitor center just before getting the pleasure of biking up a seemingly endless hill. I swear it just kept going and going. You turn a corner, see blue sky, think "Hurray! Almost there!", then the road turns again and keeps going up more. But then you see the shiny blue Pacific, the hill begins its descent downward and it's all worth it. You should have seen my smile as I hauled bananas by the "Caution 17% Grade" sign. Then Chiara reminded me we get the joy of riding back UP the hill tomorrow. I couldn't have cared less. I was having too much fun worrying about whether or not the brakes would fail or a wheel fall off.
After the exhilarating descent we turned off the pavement onto a dirt trail that would take us to the coast. Given that we have yet to see any real rain this season we were a bit surprised to see a 50 foot section of entire trail awash with knee deep mud. It was an entertaining challenge trying to balance barefoot on logs while coaxing a loaded down bicycle through the slop.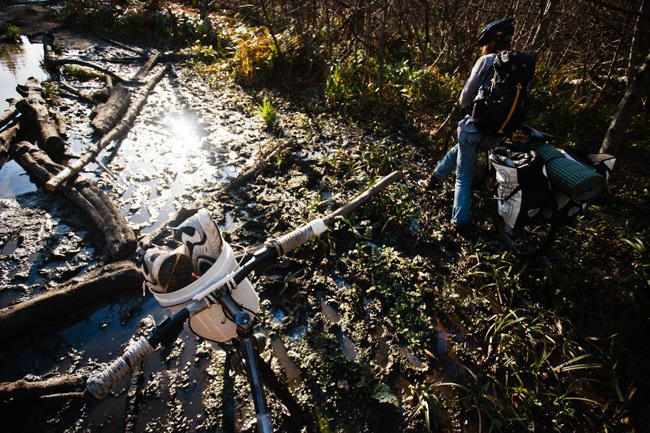 The feeling of peering out over an endless sea is something that cannot be described. The endless freedom, perfection, purity… so full of life. When you arrive at the pacific after 7.5 hours of pedaling on a bicycle, that feeling is amplified ten times. We rode for another fifteen minutes along the coastal trail before scouting out our reserved campsite #6 at the coast campground.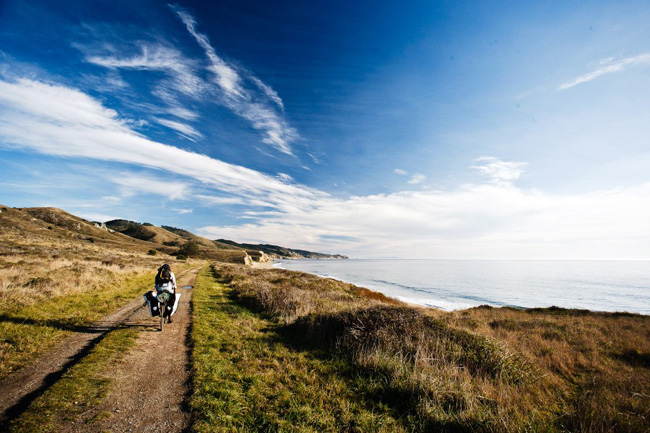 After quickly shoving all of our food in the bear box we hit the beach in search of drift wood and dinner – mussels! On a side note, if you have not been to Point Reyes and/or Drakes Bay, put it on your list. Perhaps one of the most stunning coastlines I have ever seen. Now, I'm not sure how legal it is, but in the winter months you can safely pluck mussels right off of the rocks and eat them. Best ever. Delicious.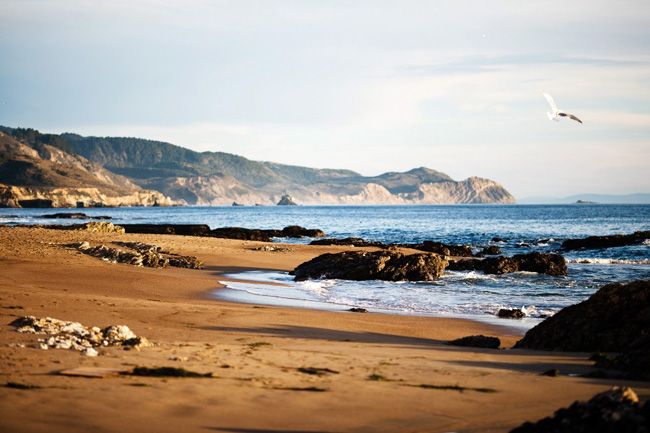 Curious at what we were doing atop a mussel crusted rock in the surf line, a couple – Jennifer and Bensen, waited for a break in the surf to run out and join us. They were fascinated what we were up to and eagerly joined us in harvesting dinner and poking sea anemones. Chiara, being a naturalist, was giving us lessons on the types of anemones in the tide pools. I was trying to feed them snails. The tide was quickly rising however to avoid being stranded on Mussel Island we jumped ship back to the sandy beach and proceeded to walk back to our campsites. Our new friends would be joining us for dinner later.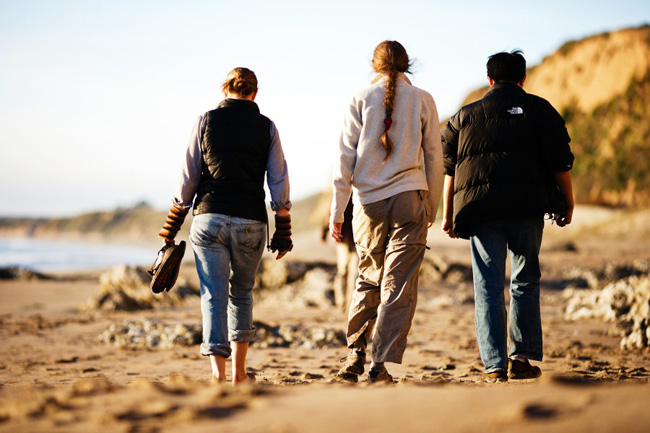 Dinner: check. Driftwood: fail. There was no driftwood… on the beach at least. We found a bunch of kindling sticks but were striking out on finding anything sizable. Until I spotted a driftwood tree atop a hill behind our campsite. Ok. So maybe it wasn't exactly driftwood, they were old trees, but since we weren't technically allowed to collect wood from the hills, we decided that if we got busted we'd just say we thought there was a really high tide. So we bushwhacked our way up to the dead "driftwood trees" above just as the sun began its descent below the horizon.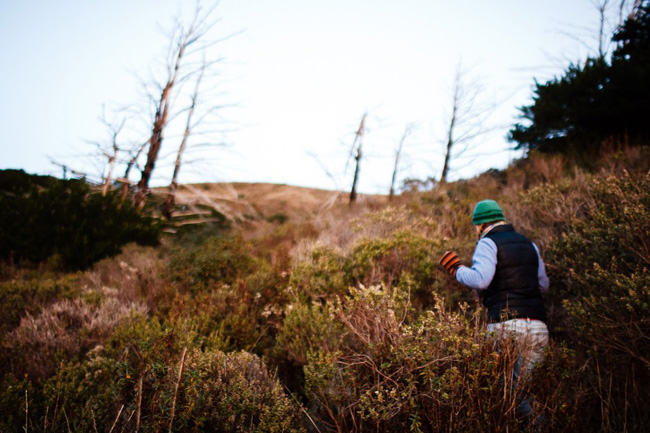 From our perch above, I saw a fellow photographer whom I met earlier sprint across the beach with his tripod in hand to photograph the sunset from the "perfect spot" he found. Although he surely would return home with some incredible photographs, I was glad at that moment not to be him. It is no secret that sunsets can produce some stunning photographs – the light is idyllic – but for whatever reason I have become somewhat turned off from shooting the iconic. I suppose that over the years that the art of photography to me has become less about setting up and creating brilliant landscape images and more about capturting the experience of life. There are a million gorgeous sunset photographs of Drakes Bay, but this adventure of bushwhacking our way to an epic firewood stash would never happen again. In the end I chose the adventure over the iconic photograph. I suggest you do this from time to time. Living a little is good for the soul.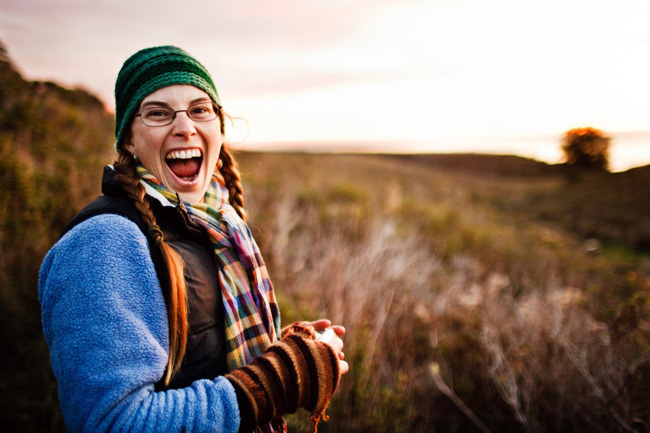 It was pretty sweet. Everyone else was watching the sunset from the beach, we were fighting our way through shrubs, bushes, and trees. The view was pretty spectacular, I have to admit. I even broke down and took a few sunset photographs. You could even see the farallon islands about thirty miles off the coast. One of the top three great white breeding and feeding grounds in the world!
Chiara cooked up a mean risotto style orzo with onion, garlic, chard, and a bunch or other yumminess. I attempted to cook the mussels directly on the coals but without a grill, was failing miserably. They were just way too hot to handle. Time to improvise. Grab a pot, put it on the coals, add mussels and a splash of champagne. Amazing meal… and cheap! Jennifer and Bensen's main course was a Backpackers Pantry freeze dried meal and "spicy dried squid flakes." We shared.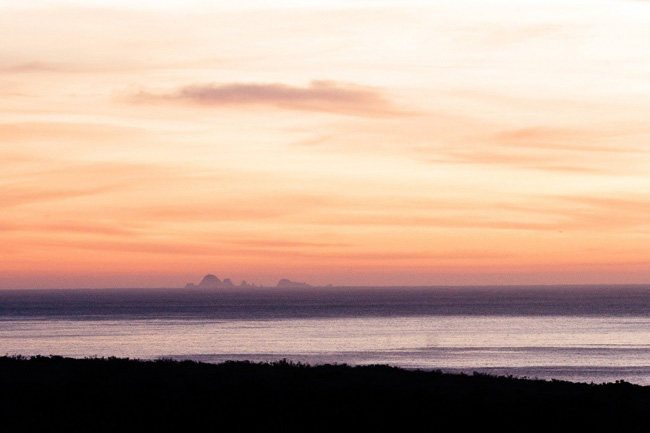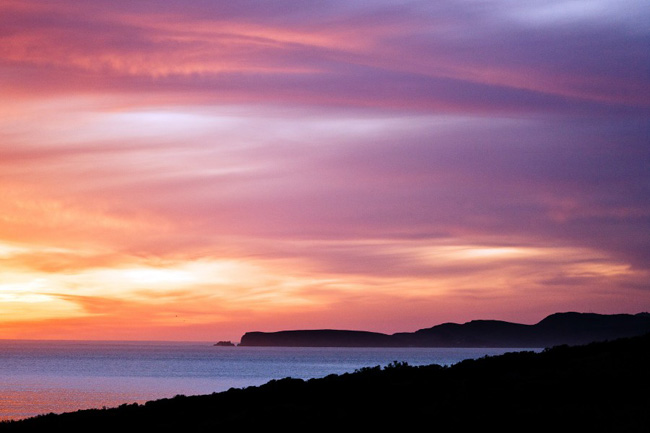 If you're curious how you make an already awesome night even better, easy. Pull out a bottle of whiskey and pirate madlibs! Between the four of us we successfully killed a bottle of Barefoot Bubbly, every last drop of Whisky, and completed a dozen rounds of Pirate Libs. Our ability to speak pirate got better after each round. Our writing got proportionally worse. Arrrrrrgh.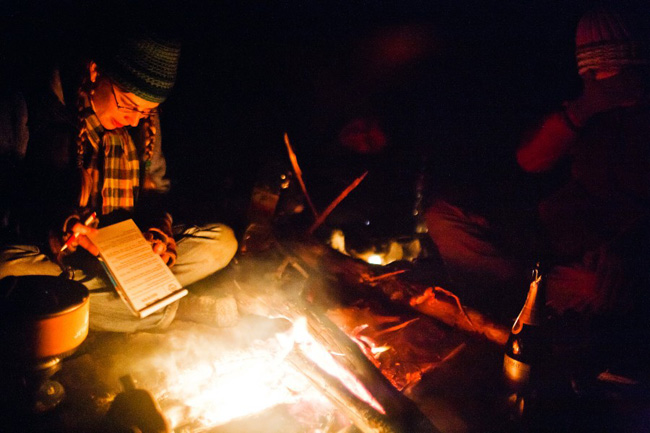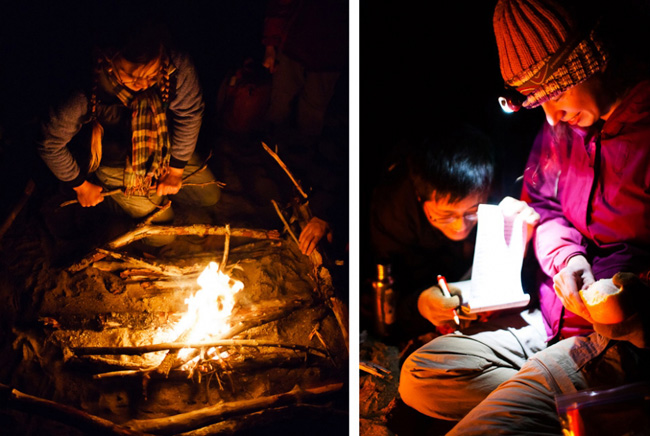 I have no idea what time we got to bed – or dirt rather- but as soon as the moon set, the sky lit up with countless stars. Exactly why we left the tent behind. I slept like a rock.
The next morning after a nice long sleep in session we cooked up a breakfast of eggs straight from Chiara's chickens, sauteed kale and onions, home made bread, and friend made marmalade. Chiara insisted that it wouldn't be a proper new years celebration unless we went swimming. I had hoped she forgot. So we took the jet boil to the beach, brewed some coffee, and went for a swim in the freezing winter ocean. I body surfed four waves before I was in essence, a popsicle. On the upside, the cold numbed away my thoughts of big white hungry sharks. Coffee after had never tasted so good.
It was now 12:30pm, I think we had anticipated on leaving some three hours earlier, it was time to head out. We packed the bikes, dressed in our cycle attire, and hit the trail back home. This is always a tough place to leave.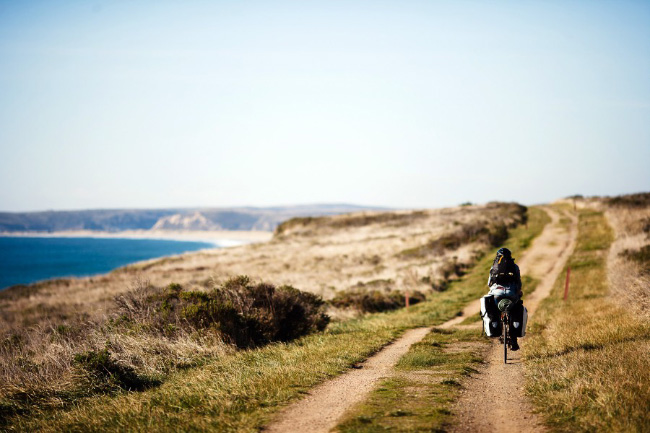 Now remember that 17% grade? I didn't even try to ride up. Screw it, I walked. What I came to learn on this trip is that the long uphills are the times that I am able to think. When racing downhill my body was fueled by adrenaline. When pedaling up those long arduous hills my body was fueled by thought and reflection. You have time to observe the beauty surrounding you, to think and to look backwards, to reflect on the time and place you occupy.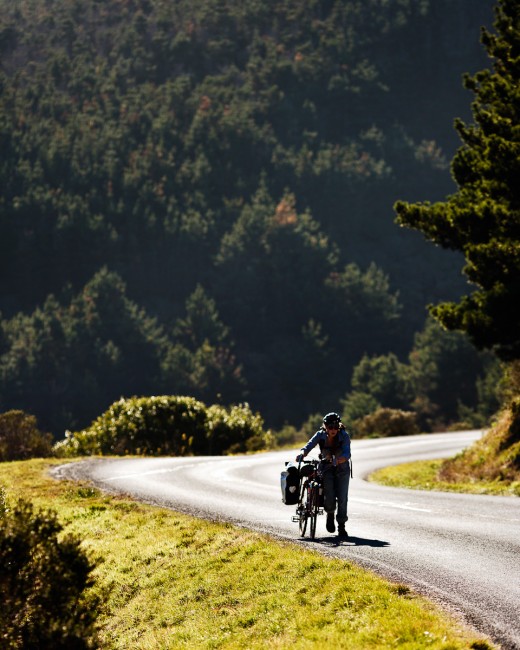 Although the uphill sections had their upsides, I'll freely admit that I never found my self get totally stoked when I saw another hill appear ahead. I bitched plenty. But when the backside of that hill comes, look out! We were both bombing our way down this awesomely long hill when this woman came barreling down the hill past us. I thought she was a car at first. Her ass was higher than her hands. She was hauling! I tucked and tried to catch her on the bucket bike but got scared. We met up with her at the bottom of the hill and she said she was only going 37mph. Her record is 49mph and she's been trying to hit 50. I can only imagine.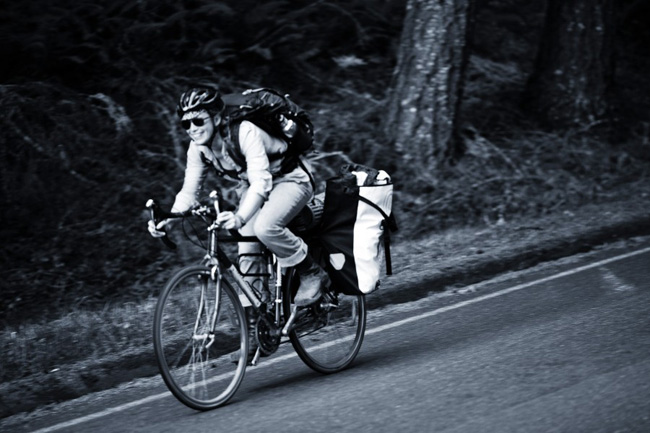 The ride back only took us about 4.5 hours. Although the terrain and views were the same that we rode the day before, it seemed more magical in a way. To celebrate, we stopped at a Puerto Rican restaurant "Sol Food" in San Rafael and stuffed ourselves silly while playing the one remaining Pirate MadLibs. We finished up dinner at 6:48 and the bus was scheduled to leave at 7pm from the San Rafael transfer station. I figured I could bike quickly to grab a coffee for the ride home and make it back in time. Yeah right. I got back at 7:02 to find the bus driving off without us. Woops.
Luckily our friend Greg called just as I showed up and offered to come pick us up. Stoked! Judging by the look on Chiara's face when I showed up two minutes late, I think he saved my life. Thanks Greg! Greg is great guy and is big into cycling as well. He is the program director for the local non-profit Street Level Cycles that enables people with disabilities get out cycling. Also, a fellow adventurer, one of his countless journeys had him riding a bicycle 7,000 miles across Africa. Naturally the ride home was spent thinking of ideas for the next ride. I think its time to get a bike.
Click here to view a slideshow of all of the photographs from the adventure. Simply type "blog" in the password box. Enjoy!