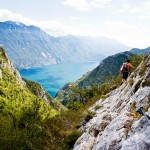 Climbing mountains at Lake Garda
I like to walk. To tell you the truth, I don't know that I can think of a time when I've actually been outwalked. Today Mauro definitely gave me a run for my money. Perhaps when you grow up in a small mountain town on a lake where all there is to do is sail, climb, bike, swim, run, hike, trek, etc, you tend to become a proficient walker. But I didn't know Mauro too well yet and he worked on computers as a network administrator so when he offered to take me on a hike I didn't think too much about it and gladly accepted. His friend Marina decided to join us too. This will be great!
There was a trail etched into the rock that went around the lake. I assumed that was the trail we were to hike. And was correct at first. As we're walking along he looked up the face of this huge dolomite rock face and said "we go up there, ok?" I said yeah, sure. I thought it was a joke.
So we veered off of the perfectly good main trail and started hiking up the mountain. Mauro noted that we'd zig and zag back and forth. I assumed we'd sort of wind up going around that rock wall somehow for that was how the John Muir Trail works.
This trail put the John Muir Trail to shame though. It went straight up the freaking face. One wrong step here would not end well. After my fall less than a week ago in Sardegna I was a little scared to be perfectly honest. Mauro moved with a slow and steady pace with each foot carefully placed as to not disturb any of the rocks under foot and cause a rock slide.
Then out come the rock climbing harnesses. "This is where it gets fun." He said. Jesus, this guy doesn't mess around. We strap in and now we're climbing.
We made it, and what a view! You can see almost the whole lake and he gives me an aerial tour of the town. You could even see the paper factory where his father worked. Impressive. We enjoued a nice picnic of fresh fruit and almonds on the summit.
Even the trails in Europe have history. This ridge we walked along was once the boundary between the Italian and Austrian empires. There were bunkers and caved dug into the sides of cliffs nearly a thousand feet high. We explored several of these cave networks. This is soo cool. So we continued around the mountain. The mountain views remained impressive.
Then the trail began into a never ending steep downhill descent to the village below. There was something exceedingly pleasant stomping mindlessly downhill on thousand year old cobblestone road through beautiful trees listen to Mauro whistle and sing to his heart's content. He seemed at peace in this place.
So we continued the trail back down to and alongside the lake back home. Another surprise. It is his parents 42nd anniversary and they're coming over for dinner. What a wonderful time. We could barely understand each other but by me speaking broken Spanish he could understand me well enough then speak to me in his broken English. We had some great conversations. I could get used to this small town life in the alps. Unfortunately it wouldn't last long.