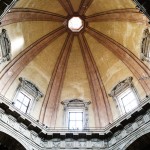 Churches at 35mm
Today we wandered around Milano and checked out four or five churches of which I lost count and forgot names after churches two and one respectively. If there is one thing I learned, it is that there are a lot of churches in Italy. Surprisingly I keep finding them very interesting.
I always hated history. In fact, I think I almost took a sense of pride in the fact that I wasn't a history person. Looking back now, there is definitely a sense of regret. History is in fact pretty bad ass. Sitting in the courtyard of one of these thousand year old churches, how can you not find your self going back in time. I mean way back in the day, your imagination going wild. No cars, no electricity, catapulting boulders onto intruders, praising the almighty God, while your friends die of some crazy plague. Where in California do you get history like that? I mean sure, we have Bodie, really old redwood trees, and Berkeley hippies, but thousands of years of history so colorful you couldn't make up a better story if you tried? Any history we did have, with few exceptions, we blindly wiped out. Exterminated.
Now I could continue ranting for days here but I'll digress. On a slightly unrelated matter it might be worth mentioning that I was not planing to go church hunting this morning. The plan was to take photos of calamari and octopi at the largest and best fish market in Italy. Instead of packing away a 17mm lens, I brought a 35mm and 135mm lens; not ideal for architecture (although they worked great for the fish). This means one must get creative in framing photos because there is no way in hell you're going to fit a massive roman basilica in the frame with those lenses. To top it off, we were moving quickly. No more than 20 seconds to frame any given photograph, call it drive by shooting if you will. To cut the ramble, here are a few quick photos from todays church tour – shot at 35mm.